Wilkes-Barre YMCA LIFEGUARD V6 TRAINING COURSE SCHEDULE
Participants must pass a pre-course swim test in order to take the Full Courses.
Minimum age of 16 on or before the final day of class
Participants must attend all days/times for the course.
Participants will pay the non-refundable registration fee to enroll in the Courses. After passing the pre-course swim test they will pay the balance of the course fee in order to receive course materials.
Full Course participants will receive a hip pack, CPR mask set, whistle & lanyard.
Crossover Participants will crossover from Red Cross to YMCA certification & should bring their CPR mask set, whistle & lanyard to class. This will certify participants for two years.
ALL COURSES ARE BLENDED LEARNING. UPON REGISTRATION INFORMATION WILL BE EMAILED FOR PARTICIPANTS TO COMPLETE ALL CLASSROOM PORTIONS OF THE CLASS PRIOR TO THE FIRST DAY OF CLASS.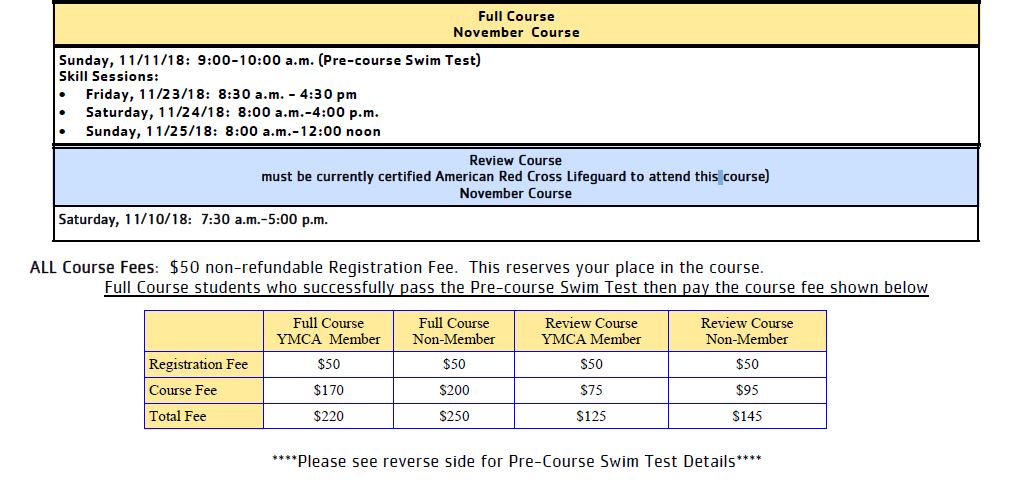 Download Course Dates and Swim Test Info
Call - (570) 823-2191 or e-mail Diana Dempsey
---
 PRE-COURSE SWIM TEST
1. Tread water for 2 minutes • Swim 100 yards of front crawl
2. Survival strokes (6 minutes) Take a few minutes to review strokes and share critical features and tips for each stroke.
Elementary backstroke
Breaststroke
Sidestroke
Surface dives
Arm-over-arm surface dive
Endurance swim
Swim 50 yards each of:
Front crawl with head up
Sidestroke
Breaststroke
Breaststroke with head up
Elementary backstroke kick with hands on the chest
Perform a feet first surface-dive in 8 to 10 feet of water (or maximum depth of training facility). Then swim underwater for 15 feet.
3. Have participants start in the water at shallow end.
Sprint for approximately 60 feet, and then perform an arm-overarm surface dive in 8 to 10 feet of water (or maximum depth of training facility).Surface and swim the remaining length to the end of the pool, and hoist yourself out of water without using a ladder or other assistance. Immediately begin compression on an adult manikin for 1 minute or 100 compressions. Quickly walk over to an elevated lifeguard stand, climb onto lifeguard stand, sit down; look near your feet fora colored shape. • Scan and identify and find the matching colored shape while scanning the pool area.