Facilitating the Growth




of Current and Future Leaders
Conferences and Retreats - Corporate Event Venue in Wilkes Barre, PA
Team building exercises are an excellent way to build camaraderie and improve morale for your employees. Most workers balk at the idea of another corny team building event, thinking about the work that needs to be done or dreading the idea of another silly event. Team building does not have to be like this. For a memorable team building retreat, try an outing at YMCA Camp Kresge, in White Haven, PA.
Participants will engage in all sorts of great activities to get the blood pumping, like a high ropes course, zipline, climbing tower and more. Getting the team out in the air beats sitting in an office all day.
With 1100 acres and an overnight capacity of 150 participants, Camp Kresge is an ideal location for all kinds of events. Located at 382 Camp Kresge Lane, White Haven, Pennsylvania, Camp Kresge is just a short drive from Wilkes-Barre, Scranton, Hazleton, and other areas of Northeastern Pennsylvania. 
We routinely host and facilitate group rentals and retreats for participants of all ages. If you have an organization, sports team, youth group, scout troop or church group looking for a place to host a retreat or event, give us a call!
We offer a variety of lodges, cabins, and indoor and outdoor spaces at our facility in White Haven, PA, and will work with you ensure that our staff deliver a high quality program tailored to fit your group's needs, whether you are looking for a relaxing retreat or teambuilding workshop. We offer a variety of activities including:
Archery
Climbing Tower
Team Building Initiatives
Low Ropes
Boating
Night Hike
Group Games
Guided Hike
Campfire
Projector
Portable Sound System
Zip Line*
High Ropes*
*Participants must be 10 or older for Zip Line and the 20 foot High Ropes Course. Must be 12 or older for the 30 foot course.
Rental Information
Lodging Facilities- Please note that facility availability must be confirmed as a part of the rental process with the Camp Office.
Rental Policies
There is no alcohol allowed on site. We ask potential weddings and parties to please take this into account when deciding if we are an appropriate venue.
Food Service is available for groups of 35 people or more with advance notice.
Exclusive use of camp requires a minimum of 100 people.
Additional policies will be sent to the group contact for the rental.
If you are interested in holding your group's retreat at YMCA Camp Kresge, please contact Devin Polhemus, Camp & Conference Director at devin.polhemus@wbymca.org, or call 570-443-2267.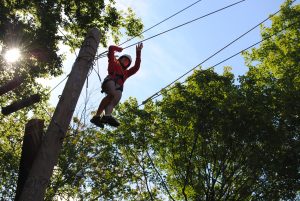 Current Retreat Groups
In addition to facilitating YMCA Camp Kresge's own day and overnight camps, we are proud to host the following retreat groups at our facility:
Camp AsthmaCadabra
Pennsylvania State Police Troop P's Camp Cadet
Distance Running Cross Country Training Camp
S.A.F.E.