PICKLEBALL TOURNAMENT
WHEN: SATURDAY, NOVEMBER 4TH - 9:00am START
ENTRY: $10 Wilkes-Barre YMCA Members; $15 non-members
FORMAT: OPEN DOUBLES; LIMIT 16 TEAMS
Tournament Outcomes
The goal of the YMCA is to ensure everyone has fun in this recreational tournament. Proceeds will be used to sustain and enhance our pickleball program.
Equipment
The YMCA will provide balls for tournament use and have paddles available for players who need them.
Registration
All players must register individually. Please designate your partner's name during registration if applicable. Single players are welcome to register and will be paired the day of the tournament.
Tournament Format
The player pool will consist of male doubles, female doubles, and mixed doubles all competing within the same bracket/format. Double elimination. Initial games will be selected at random. Matches will be best of three.
Scoring
Games are played to 11 win by 2; not to exceed 15. First team to 15 wins. Teams will alternate sides after game one and would alternate sides of the court once a match reaches the 6th point if a match goes to a 3rd game.
Register for our Pickleball Tournament
Share our Pickleball Tournament Flyer
---
PICKLEBALL OPEN COURT/PICK-UP PLAY

Courts will be set up based on amount of sign-ups. Please sign-up to let us know you are coming by calling or stopping by the front desk. 24 hour notice is appreciated. 570-823-2191
Monday, Wednesday and Friday: 9am - 11am - All Levels Open Court
Monday 6pm - 9pm
Tuesday: 2pm - 4pm - Beginner Open Court
Saturday: 10-11am Beginner Lessons by Appointment
Saturday 10 - 12pm - All Levels Open Court
Sunday: 12pm - 2pm - All Levels Open Court
About the Game
Pickleball is played with a perforated plastic ball and a paddle. The game is easy for beginners to learn, and can develop into competitive play for experienced players.
Equipment
We provide paddles and balls! Players are welcome to bring their own equipment as well.
LESSONS
Saturday 10am - 11am by appointment
Lessons are given by our Indoor Pickleball Coordinator, Ryan Pollock.
Members: Three free lessons
Non-members: $5/lesson
We encourage all beginners to take a lesson. Learn from our seasoned members in a relaxed and easy paced environment.
Please contact Lauranel Banks, Wellness Director to schedule a lesson. 570-970-5012
Download our current pickleball flyer
---
PICKLEBALL
Welcome home to our champions! Indoor Pickleball Coordinator, Ryan Pollock an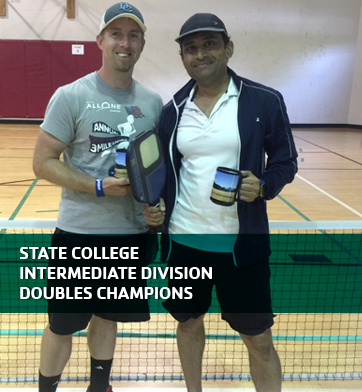 d YMCA Member, Naveen Dadayyapally played in the Intermediate Division of the YMCA of Centre County Pickleball Tournament and returned home champions!
After knocking out an advanced team, Pollock and Dadayyapally had one of the toughest tracks to the top playing 3 out of 5 matches against advanced teams. In the end, they "dinked" their way to the Intermediate Title which, despite the pickleball term dink, was not a small feat. The competition was fierce, but even their opponents stated what a pleasure it was to challenge an enthusiastic team with infectious spirit. We couldn't be more proud of our team.
After such an amazing experience, our "home team" is geared up to offer you the chance to enjoy the game in the same way. Please save the date, Saturday, November 4th for our first pickleball tournament! A day of friendly competition for all levels.
---
NFL FLAG FOOTBALL LEAGUE
The Wilkes-Barre YMCA has partnered with the NFL to bring Youth Flag Football to the area.  Join us in this fun, and competitive league as you learn and grow with friends!  Learn the rules in a safe and fun environment.
This league is co-ed, ages 7-13.  ALL ARE WELCOME!
All participants will receive an NFL official flag football reversible jersey, and flag belt.
Preregistration now available!
Family Member: FREE
Member: $30
Non Member: $60